Walk 4 Fun
Pupils, Mark K and Sophie D, present principal Kathryn O' Mahony with a cheque for E5,000, proceeds of the recent Family Fun Day.  This hugely successful and enjoyable event was organised by parents Noelle Kelly, Rachel Delaney and Ciara Murphy.  A big thank you to all concerned!
Sunflower Seeds 
Marc Carroll from U.L. Environmental Committee presents 200 packets of Sunflower seeds to Principal Kathryn O'Mahony as part of U.L. Environmental Committee's outreach programme.
Seachtain na Gaeilge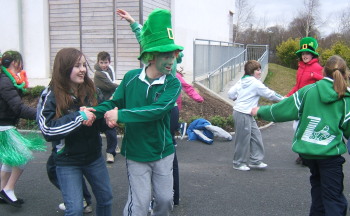 During Seachtain na Gaeilge, 15th-19th March, we celebrated our native language through various activities. We wanted children to enjoy the celebration of our Irish culture through music, song, dance, art and most importantly through the spoken word. Children in the various classes were rewarded for speaking Gaeilge during the week, with stickers, prizes etc.Bhí dánta, amhráin, an Haka Gaelach, Raidió Scoil Áth a' Mhuilinn, Tráth na gCeist agus gníomhaíochtaí chultúrtha eile ar siúl i ngach rang. Quizzes as Gaeilge, News from Raidió Áth a' Mhuilinn, seanfhocal and art competitions are just a few of the many activities which were happening during Seachtain na Gaeilge.Tuesday, March 16th, was Lá Glas, Green Day, when children were encouraged to dress in green, to be as festive and inventive as they liked in their costume; 6th class face painters were on standby in the morning to paint shamrocks/flags on faces. In the afternoon we ran a big Irish Céilí in the school yard, the Léim Amach Mór, where  all can the children 'cut loose' for a while to trad, folk or rock.On Thursday and Friday the various classes put on little shows of song, poetry and dance for the other classes in the school gym.  UL World Music Students were our guest entertainers on Thursday, organised by Sandra Joyce, and Ms Mairéad O'Connor and her talented troupe  organised the entertainment for Friday. Our whole emphasis this week was on FUN!

Mol an óige agus tiocfaidh sé!!
WOW and COW Days
For the past few weeks around 200 children and their parents have been supporting WOW Day, and have been enjoying the fresh air and exercise while walking to school. (View photos on www.milfordns.ie). The aim of the WOW incentive is to get a walking culture established in the school, reduce traffic congestion, get exercise, increase social interaction, and increase Road Safety awareness. Parents, please note that while the school has facilitated and promoted this venture, responsibility for getting children to school safely lies with you, the parents, at all times. The 10th March 2010 was the first COW (Cycle on Wednesday) Day, and we were delighted finally to see our bicycle park put to use. Many thanks for the wonderful support you, the parents, have given to these initiatives, and we encourage you to continue to accompany your children in this Sustainable Travel Green Schools Programme.
Computer Room
The Music Room has been refurbished and is now equipped with 14 computers (we hope to procure two more for full class use) and computer tables.  Many thanks to Mr Moore and Mrs Fenton, and also parents Seán McGrath, Tom Newe and John Nelson, who are responsible for the transformation.
Jubilee Cup Quiz Winners
Well done to the winning team: Michael O'S, Eoin M, Aoife Mc,  Bethany  H, Jake Mc, Hugh F, Conor N, Ryan H, Séamus B and Luke M
Positive Ageing Week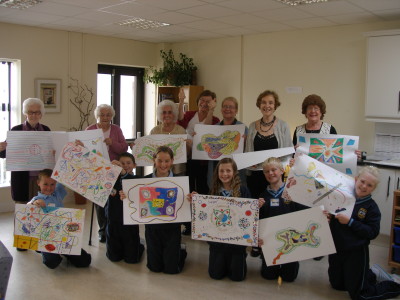 The boys and girls in Milford N.S. had a very enjoyable week to celebrate Positive Ageing Week in Milford Day Care Centre. Both the adults and the children really enjoyed the interaction with each other and created beautiful art work together. A big thank you to everyone for taking part in positive aging week and hopefully we can link up again in the future.
Fitzpatrick Cup 2010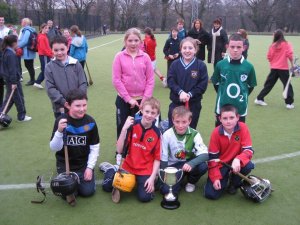 Congratulations to Foireann M, the inaugural winners of the Fitzpatrick Cup. Pictured above is the winning captain receiving the Fitzpatrick Cup from Principal Ms. Kathryn O' Mahony.The victorious team, captained by Seán C, included  Katie G, Ian M, Ciara H, Tiernán O'D, Christopher C, Ronan Mc and Luke H.The Final was a tremendous game of hurling.Commiserations to the other finalists,Foireann A, (Jack B, Sarah-Jane B, Oisín H, Jack L, Luke
O'B-M, Catha A, Shane H and Philip H.

Both teams were very close in ability and provided the many spectators to an exciting match to conclude the competition ( right down to a golden goal in extra-time). Well done again to all the girls and boys who participated in the first ever Fitzpatrick Cup.
Larkin Shield
U.L. Portraits Visit
Fashion Show
Parents, pupils, staff and friends of Milford NS were treated to an extravaganza of style, glamour and much more in the Castletroy Carlton Hotel. The hard work of the Organising Committee, Noelle Kelly, Sharon Gleeson and Linda O'Connell, all parents of children attending the school, guaranteed that  the " Girls' Night Out" Fashion Show was a huge success, raising in excess of €10,000 for the Milford National School Community Gym Building Fund. This support is testament to the commitment of the parent body and wider community.
Tennis Champ!!!
Come on Ireland!!!
The boys and girls in Ms. Newman's Class received a lovely surprise recently while attending their swimming class in the University of Limerick.  Mr. Declan Kidney took some time out of his busy schedule to talk to the children.  It really made their day.
Sarsfield Cup Football Team
Congratulations to Sean F and Jack B who were members of the Limerick City team which won the Sarsfield Cup for the first time in 20 years. The cup is contested between the four GAA divisions in the county. In the semi-final the City beat the East and conquered the South in the final. Sean lined out in goal for the City and Jack played at corner forward. Well done again to both. All in Milford N.S. are proud of your achievements. Pictured above with Sean and Jack is Mr. Denis O'Connor (Cathaoirleach Cumann na mBunscoil, Cathair Luimní)
Athletics Team 2009
Congratulations to all the boys and girls who represented our school so proudly in the Limerick City Primary School Sports.  The event was held at the U.L. Arena.  The girls won the overall team prize for their division.
Geoff Hunt Visit
I went on a class nature walk around U.L. with a very intelligent man named Geoff Hunt. I had a
great day except for the time my camera fell into the pond – but I soon got over it as the day was such fun! We brought fishing nets with us and we caught loads of creatures. We caught a frog, a few snails, some water beetles, a few water scorpians, a leech, lots of tadpoles and four or five three-spine stickle backs. That's all that I can remember but there may be a few more. Then we walked back to the school. It was quite a long walk. When we got back we were so mucky that we had to take off our shoes. Geoff came into our class for half an hour and we learned alot about nature. When he left, it was home-time. It really was a great day!

by
Rachel G

(4th Class)
School Lotto
Congratulations to the Grehan family who won the School Lotto jackpot prize of €4500. The numbers were drawn by the pupils in Third Class. Great excitement  followed when it was later announced by the boys and girls that the winning ticket was sold in First Class. Well done again to the Grehan Family!A big thank you to everyone who plays the School Lotto each week. Hopefully we will be announcing another lucky jackpot winner in the not too distant future. Remember – 'If you are not in, you can't win!'
Frederico Pucciariello Visit
Congratulations to the winners of the Fr. Doran Memorial Cup