Under 13 Hurling Team
Mr. Donnacha Hurley – General Manager of the Absolute Hotel, Limerick
* A huge 'thank you' to the Absolute Hotel, Limerick for their very generous donation of a set of jerseys to the Milford N.S. Under 13 Hurling/Football Team.
Geoff Hunt with 2nd Class
Fitness and Fun Day
All Ireland Winner
*Congratulations to Rachel who won an AI medal for 4x600m relay.
Senior Infants
Lotto Jackpot
*Congratulations to the Hogan family who recently won the Milford N.S. Lotto Jackpot.
Remember, if you are not in, you can't win!
Primary Game
*Áine and Evan represented Milford NS in the Primary Game at half time during Limerick's epic victory over Tipperary in the SHC semi-final in the Gaelic Grounds on Sunday, June 9th. They are pictured wearing their gear which was sponsored by the Munster Council.
Neville Cup
*Congratulations to Ellen, Aimee and Áine! who were selected to play for the City u13 Camogie Team in the Neville Cup.
Third Class Tour
Boys' Athletics Team
Girls' Athletics Team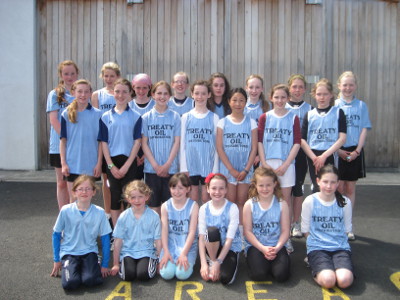 'Girl Power' from the Hoseys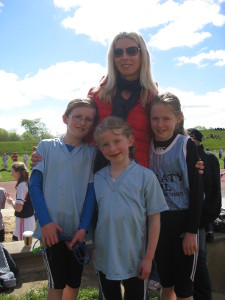 * All three Hoseys won their races in the PS Sports and helped the Girls' Athletics Team to retain their status in Category A.
Presentation of Trophy
*Niall receiving the trophy on behalf of the Boys' Team for winning Category B this year and earning promotion to Category A next year.
Geoff Hunt Visit
* Outdoor exploration with nature expert Geoff Hunt
Mapping Workshop
Stream Exploration
Grandparents Reading Day
There was a lot of excitement in Milford school on Wednesday 20th March as Grandparents and friends of the Junior Infant classes were welcomed "Back to School".Our Junior Infant budding readers were treated to extra special stories today by the EXPERT STORYTELLERS…We hope our Junior Infant Grandparents will continue to call to us to share their vast knowledge, wisdom and experience.How great it was to have D.E.A.R time with special people.
Mayor Gerry McLoughlin
Limerick Mayor, Gerry Mc Loughlin visited Milford NS in Castletroy this week as part of the Green Schools Initiative. Milford NS has to date won numerous Green Schools awards. Staff and pupils were delighted to see Mayor McLoughlin arrive to the school on his bicycle! A very Green Mayor indeed!The school band and choir warmly welcomed Mayor Mc Loughlin to the school gym, where he then addressed the staff and pupils. Mayor McLoughlin congratulated the pupils on all their hard work promoting FairTrade, Water and Energy Conservation, Recycling and being good Global Citizens.The Mayor was very surprised to be treated to a historical renactement of his famous 1982 try for Ireland against England in Twickenham by some 4th class pupils. The Mayor was then taken on a tour around the school and shown the vegetable patch, the compost and recycling areas and finished off his visit by planting a new tree.
Teddy Bear Hospital
Please click here to view a slideshow of the children visiting the Teddy Bear Hospital in the U.L. Arena
Swimming
Congratulations to Aaron C. in 4th Class for so admirably representing Milford School in swimming last weekend in Galway. Aaron came third in Ireland in the 50 m back crawl. Well done Aaron!! We are so proud!
2nd Class Narrative Reading
Rubik's Cube Challenge!
Milford N.S. Choir
Read Olympics – Skip Hop!
There was great excitement in Milford N.S. when the skipping coaching company Skip-Hop UK visited our school on the 26th / 27th February. Each class received skipping coaching (sponsored by Milford N.S. B.O.M.) and there was a whole school demonstration of skipping by SkipHop on Wednesday 27th. It really was a lot of fun! It has acted as an incentive to read to earn the skipping ropes and of course put the skills to test in the school yard.
Read Olympics
In essence, ReadOlympics is a fundraising drive in Milford NS and we thank you for your support in advance. All proceeds will go towards our Gym Repayments. We acknowledge the recent success of the Art Exhibition and the contribution of the parent body whose support guaranteed it to be a success both financially and socially.Milford NS has thrived because of its unique sense of community- a community which extends far beyond the school building. It is because of years of this support that we have a wonderful Gym facility which greatly enhances the educational experience of every child in Milford NS. Milford NS has always been committed to providing a full programme of Physical Education and our Gym is key to this. We are thrilled that in addition to full curricular opportunities, Milford NS has had three winning teams in City competitions this year to date.We believe we have incorporated two key goals of education in Milford NS in ReadOlympics…  the promotion of Literacy and the Promotion of Health through active lifestyles.We are grateful for the support of our sponsors from our immediate community, local and regional businesses:
Plassey Credit Union, The Absolute Hotel, Stryker, Analog Devices, Fitzgerald's Flowers/ 2 Euro Store, Milford NS Parents Council, Milford NS BOM.
Milford N.S. Art Exhibition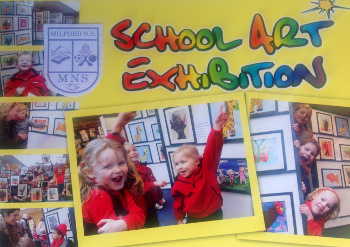 The pupils of Milford National School held an exhibition of their in the  Milford Community Gym on Tuesday 12th and Wednesday 13th Feb.  The Grand Opening of the exhibition  was formally opened by local artist, Kathryn Collins.  The artwork was all professionally framed and catalogued for display in the gym. Framed print copies of the originals will also be available to order during the exhibition.  Each child will received their own catalogue of the exhibition and a souvenir photograph of the class taken with their artwork.  Art is an area that every child enjoys and the exhibition was a big social event in the life of the school this year.  A big 'thank you' to everyone who came along to support our school and to admire the work of all our talented children.  It really was an occasion to remember for the whole school community.
Senior Infants!
December Visitor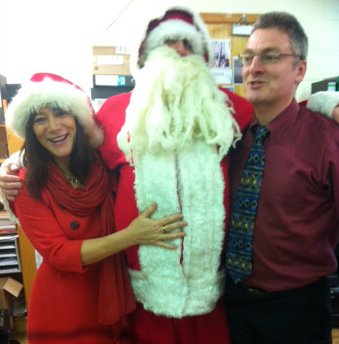 Christmas Eve Pageant Rehearsal
Parent Council Activities
Many thanks to the Parents' Council for their recent donation of €3,000 to the school for the purchase of I–pads. As a result of this it has been possible to purchase twelve I-pads for classroom and resource room use, as well as the necessary connectors, adapters etc to link into the Interactive Whiteboards. A big "Thank You" also to Nicola and her team for organising some very successful fund-raising events recently: the Cake Sale before Halloween raised €1,230, Lenrec re-cycling campaign raised  €386  and the personalised Christmas Card project also received great support from the children and parents.  The recent Table Quiz, which generated  €1,401 for school resources, was a great success. Thanks also to the quizmaster in the night, Liam de Búrca, (who is also Chairman of the Board of Management) for his very enjoyable and topical questions! Milford N.S. particularly  wants to thank  local company, Emutex, for sponsoring a hi-tech prize for the Table Quiz. The company specialises in computer software engineering. John Twomey, M.D. quotes: "We support Milford N.S. in our own small way to thank them for the high quality education delivered to our children and to help highlight the importance of engineering and science to our children's future".
iPad Lotto Winner!
Enrolments 2013
The closing date for enrolments for Junior Infants for September 2013 is January 25th 2013. There are already 170 applicants for 62 places.
Milford u13 Girls' Football Captains
Pictured above are the last three Under 13 Captains who accepted the Corn na Modhscoile Cup on behalf of Milford N.S.Left to Right; Chloe (2011 Captain), Emma  (2012 Captain), and Sinéad  (2010 Captain). Three top-athletes… Three total champions… Three great leaders. Thanks girls. You and your teammates represented this school with distinction.
Science week 2012
SCIENCE WEEK: November 12th-16th:  Science week was fun-packed! Each class was  given a Science Week Folder compiled by Olive Doody, Science Co-ordinator, which contained  Science Experiment guidelines and  suggestions. All classes  engaged with some Science experiments during the week. On Wednesday November 14th both 5th classes attended UL for an Interactive Science Show presented by Sue McGrath. Also on Wednesday Bairbre Moynihan, former Milford pupil, came into the school and worked with pupils from the 3rdth class pupils with activities supplied by Engineers Ireland. Mr Gallagher's 3rd class attended a science activity session on the Human Body in the Department of Nursing and Midwifery in UL. Some or all of these activities may be viewed on the school web-site! and 4
Larkin Shield Limerick City Team Members
Well done to Emma, Áine and Ellen on representing Milford N.S. on the Limerick City u13 Girls'
Football Team in November.
GREAT NEWS!!!  TREBLE WHAMMY FOR MILFORD NATIONAL SCHOOL!
Congratulations again to our three fantastic football teams who made history for Milford School by winning three football finals this autumn. The Milford u/11 Boys' Football team won the Limerick City cup, the Milford u/13 Girls won the Corn na Modhscoile cup, and the u/13 Boys won the McInerney cup. All three finals were played on the wonderful new astro-turf on the grounds of UL.  We are all very proud of the brilliant and dedicated boys and girls who brought this unprecedented success to our school. Congratulations and thanks also to their very dedicated and committed coaches, Mr Moore, Ms Fenton, Ms Griffin, Mr Nelligan, Ms Ryan and Mr Kelly.Congratulations to all the boys and girls involved and a big "Thank You" to their patient and  dedicated coaches for all the training and encouragement!!Well done  to the u11 Boys' Football team: Limerick City Champions
Well done  to the u13 Girls ' Football team: Corn na Modhscoile Champions
Well done  to the u13 Boys' Football team: McInerney Cup Champions* Please click here to view a slideshow of  Football Finals 2012
LARKIN SHIELD: Three girls from our school made it on to the Limerick City Football team this autumn. Congratulations to Emma Donohue, Áine Nelligan and Ellen Regan-Magner on being chosen by the city selectors.
SARSFIELD CUP: Congratulations to Niall Sweeney, who was the only boy from our school to be selected for the Sarsfield Cup team.
Milford N.S. Market
Cora Harrison
On September 11th, 6th class welcomed the author, Cora Harrison to Milford NS. It was Cora's second visit to Milford NS. As the 2012 6th class was introduced to Cora, we were reminded of a discussion with pupils on her last visit to Milford after which she was prompted to redesign the cover of her book "Wolf in the Midnight Forest".Since Cora Harrison has retired from teaching, she has written 45 books ranging from the "Drumshee" series set in the Burren in North Clare to the award winning "London Murder Mysteries" inspired by her great interest in the works of Charles Dickens. Cora's fascination with the teenage writings of Jane Austen has been the springboard for her books " Jane Austen stole my Boyfriend" and "I was Jane Austen's friend"Certainly, our current 6th classes were as enthusiastic as ever as Cora led them in an exploration of the themes of her novels. Many of the pupils of 6th class had read Cora Harrison titles as part of 5th class Book Club  May/June 2012 so they were keen to meet the author in person. There was lively discussion and a very interesting question and answer session.The highlight of the visit, though, was the collaborative creation of the Class Story. Cora ably led all the young writers through the stages of developing a good story. The title "Liar, Liar" was decided upon and we await the finished stories from 6th class. Cora has invited the pupils to send their stories to her for comment through her Story Club on her website www.coraharrison.com.Cora was a surprise visitor to the Third classes who will read Cora's novel "Titanic, Voyage from Drumshee" as their class novel later this year. No doubt, their experience of "Titanic, Voyage from Drumshee" will be all the more special for having met the author no less!We wish Cora well in her Active Retirement and look forward to reading her novels in our class libraries.
Church Car-Park
Please advise the person collecting your child in the evenings to use only designated car-park spaces. The problem with parking has been largely alleviated due to the enforcing of rules re unauthorised personnel etc. Unauthorised cars will be clamped.
Other Safety Issues
Due to the building work being completed  at the Salesian Hostel next door to the school we are asking parents and children to continue to be extra-vigilant when entering and leaving the school premises. It has been agreed that there will be no deliveries during school opening and closing times. However it is always advisable to exercise caution in the vicinity of any building work.