Thank you!
A lot of activities are available after school due to the generosity of time and energy of the staff of Milford National School.
A huge "Thank You" is due to these incredibly talented and dedicated people who give so freely of their time to the children of the school. Many people think that the school day is from 9 a.m. to 2.40 p.m. They may forget about the amount of administration which is involved in the running of a class of 30+ children, the preparation, corrections, setting of tests, assessment of attainment in up to eleven subjects, compiling of pupil reports and profiles, not to mention the countless other tasks in the organisation of a class. Afternoons spent giving extra classes, training teams and bringing children to matches obviously takes a lot of time and sacrifice on the part of teachers.
The teachers of Milford School are the embodiment of the ethos of the school. The spirit of volunteerism, so rare nowadays, is giving a wonderful example to our children, and is very much appreciated by all in the school community.
Ar scáth a chéile a mhaireas na daoine. Ní neart go cur le chéile!
Pictured above are the Milford N.S. Under 11 Team with their coaches Ms. Dolphin and Mr. O' Connor. Pictured on the right are the Milford N.S. Athletics Team Coaches (Ms. Larkin, Mr. Nelligan, Ms. O' Sullivan, Ms. Hill, Ms. O' Meara, Ms. Dolphin, Ms. Griffin and Mr. kelly).
Pictured above are the Milford N.S. Art club with Ms. Mitchell. Pictured on the right are the Milford N.S. Under 11 Team (girls) with their coaches Mr. Kinnerk and Ms. O' Sullivan.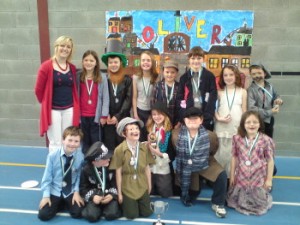 Pictured above are the Milford N.S. Happy Days Performance Club with Ms. O' Meara. Pictured on the right is Ms Mitchell window-painting
Pictured above are the Milford N.S. Knitting Club with Ms. Sheridan and Ms. Burke.  Pictured on the right are the Milford N.S. Don Bosco Quiz Team. Thank you to Ms. Dunne, Ms. O'Meara, Mr Moore, Ms. Larkin and Ms. Griffin for their help throughout the year with the Quiz Team.
Pictured above are the Milford N.S. Dance Troupe with Ms. O' Connor.  Pictured on the right are the Under 13 Team with their coaches Mr. Moore and Ms. Fenton.
Pictured above are the Milford N.S. Splash and Dash Team with Ms. Burke.  Pictured on the right are the Milford N.S. Camogie Team with their coaches Ms. Newman and Mr. Nelligan.
Pictured above are the Milford N.S. Choir.  A big thank you to Ms. O' Meara and Ms. Rigney for organising the repertoire of songs and the many rehearsals.  Pictured on the right are the Milford N.S. Shakin' with Shakespeare Club with Ms. Rigney – their director, producer, teacher.
Pictured above are the Milford N.S. Mathematics Club with Ms. Cahill and Ms. Dolphin
Under 11 Hurlers 2011
Pictured above with the  Under 11 hurlers are Mr. O'Connor, Gavin O' Mahony (Limerick Captain), Pat Culhane and Ger Downes. Congratulations to the boys for reaching the Under 11 City Final and a big thank you to the coaches for visiting our school.  Best of luck to Gavin and the Limerick hurlers in their quest for All-Ireland glory.  Please click to view a slideshow of the presentation
Mayor's Cup Winners 2011
Congratulations to James and Seanie (Sixth Class) who both played on the Limerick City Hurling Team.

Munster Soccer Champions 2011
Girls' Basketball Final Win
Congratulations to the Girls' Basketball Team on their fantastic win against Athea N.S.  Well done to all the girls who trained so diligently each week and a big thank you to everyone involved with the team for your enormous work.
Plassey Primary Schools' Sports 2011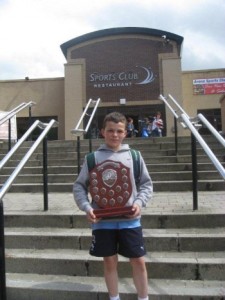 Ralph collects the trophy on behalf of his teammates.
Congratulations to the Boys' Athletics Team for their great win at the Primary Schools' Sports.  Well done to the entire athletics team for their excellent effort and behaviour.
Summer Works Scheme
Over the last two years we applied for and received grants from the DES for the refurbishment and re-surfacing of the playground, and for the re-zoning of our heating system. This year we applied for and have received a grant to improve the safety of our electrical system. We are delighted to receive the grant, and work on this will take place over the summer.
Confirmation
Congratulations to the boys and girls who made their Confirmation recently on a wonderful ceremony. Well done to their teachers, Ms Dunne and Ms Cahill, and also to classroom assistants, Ms Carey and Ms Collins, for the hard work and preparation.
Oliver
On Tuesday, 12th April two groups from Milford N.S. attended the first Limerick Drama Festival for Primary schools. Milford Dance Group, led by Mairéad O'Connor, received the Highly Recommended award in that category. The Happy Days Performance Club, led by Linda O'Meara, received the award for First  Place in their category for the musical, "Oliver", and Third  Place overall in the whole competition.  Laura O'Sullivan, who played the character of The Artful Dodger also received an award for best actress.  Congratulations to all who took part. The Happy Days Performance Club will be running a summer camp from July 11th to the 22nd in Milford N.S. for anyone who is interested in acting, singing, dancing and fun!
ABC Programme
Pictured above are Mike Storey and James Ledingham with Ms. O'Sullivan's Junior Infant Class on completion of the ABC Programme (Agility, Balance, Coordination) in April.
Splash and Dash
Seven of our top athletes took part in a swimming and running event in UL recently.  Pictured above are the Milford N.S. "Splash and Dash" squad with their Team Manager Mrs. Áine Burke.
 Presentation to Ms. Burke
Ms. Annemarie Yelverton presenting a card and gift voucher to Ms. Angela Burke in advance of Ms. Burke's upcoming nuptials on behalf on the children and parents of Ms. Burke's Senior Infant Class.
Seachtain na Gaeilge
Please

click here

to view additional pictures.
During Seachtain na Gaeilge, 14th-18th  March, we celebrated our native language through various activities. We wanted children to enjoy the celebration of our Irish culture through music, song, dance, art and most importantly through the spoken word. Children in the various classes were rewarded for speaking Gaeilge during the week, with stickers, prizes etc.  Bhí dánta, amhráin, an Haka Gaelach,  agus gníomhaíochtaí chultúrtha eile ar siúl i ngach rang. Quizzes as Gaeilge, seanfhocal and art competitions were just a few of the many activities which happened during Seachtain na Gaeilge.
Monday, March 14th, was Lá Glas, Green Day, when children were encouraged to dress in green, to be as festive and inventive as they liked in their costume; 6th class face painters were on standby in the morning to paint shamrocks/flags on faces. In the afternoon we ran a big Irish  Céilí in the school yard, An Léim Amach Mór, where everyone cut loose for a while to trad, folk or rock. This is our only fund-raiser for local charities this Lent.On Tuesday and Wednesday  the various classes put on little shows of song, poetry and dance for the other classes in the school gym.  There was even a special appearance by the Milford Staff!!This was a great week as always and the children enjoyed themselves thoroughly in celebrating our Irish culture and language while having a lot of FUN, which was the main objective. Proceeds from the Léim Amach Mór came to €825 and will go to our charity account to support  needy families in the area.
Visit to O' Mahony's Bookshop
When I went to O' Mahony's bookshop with my class I heard an author, Gabriel Fitzmaurice, talk about his books.   He asked us riddles and read to us some of his funny poems.  Then we did a quiz about the author.  We ate some sweets and had a look around the shop. Julie won one of Gabriel's books!  It really was a fun morning!
By
Aoife (Third Class)
Hurling League 2011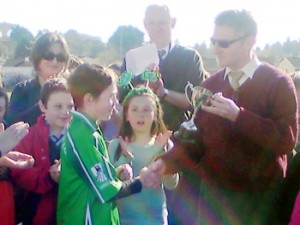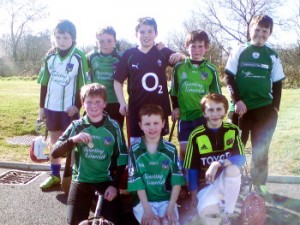 Pictured above are the winners and finalists of the Hurling League Cup 2011. A big thank you to Mr. O' Connor for organising the competition and well done to all the boys who participated in the event.
Night at the Dogs
This event, which took place on March 25th, was a huge success and raised €15,000 for the school gym repayments.  I would like to say a huge "Thank You" to all parents and friends of Milford School who supported the Benefit Night, and to pay tribute to the tremendous work of the organizing committee, Noelle Kelly, Rachel Delaney, Teresa Canny, Linda O'Connell, Rachel Gleeson, Ciara Murphy and Sandra Hogan. A special word of thanks is very much due also to the teachers who took part in the Fancy Dress Race, for their loyalty, support and good humour, as always!
Pictured above  are members of the organising committee (Ms. Teresa Canny and Ms. Sandra Hogan) presentating a cheque for E15,000 to Ms. Kathryn O' Mahony (Principal).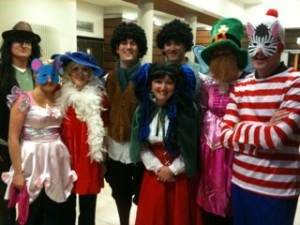 Children from Milford N.S. present the parents with gifts and thank them for their fundraising efforts Staff from Milford N.S. who participated in the Fancy Dress Race at the Night at the Dogs!!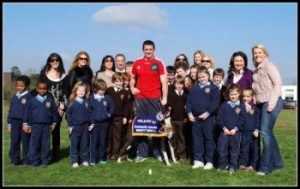 Band Spectacular
The ever-busy school band recently performed at the annual Band Spectacular with Ennis N.S and Knockanean  N.S.  This year it was held in Shannon Airport and was truly spectacular! Parents, classmates and unsuspecting international travellers were treated to a great musical event. Afterwards the band members were guests of the Shannon Airport Fire Services at a runway demonstration of Fire-Fighting.
Fitzpatrick Cup
The second annual Fitzpatrick Cup competition was completed in January on the astro-turf in U.L. Roughly 120 boys and girls from 4th to 6th classes took part in the 37 matches involved, and they are to be congratulated on their excellent behaviour, co-operation and sportsmanship. The Cup Final was ably refereed by Mr Kelly. Seán Considine's team took on Brian Cunningham's gang in a closely contested affair with the eventual honours going to Brian Cunningham's team.
We would like to thank UL for the use of the fabulous astro-turf facility and for accommodating our school , year after year. Special mention goes to Neasa O'Donnell of the Sports Department for her ongoing support, help and goodwill.
Visitors
We have had visits from two local authors recently, Judi Curtin, author of the Alice series, and Bob Burke, author of "The Third Pig Detective Agency", visited 3rd to 6th classes. Pupils got first-hand knowledge of how a novel comes to be published, through the informative Q and A sessions. We hope the seeds of inspiration have been sown in our budding authors!!About 40 Korean students from  UL visited the school in January  and went around the classes entertaining the children with Korean games, plays and Geography lessons. This visit was arranged through Joan O'Sullivan, from UL Language Department
Don Bosco Quiz Team 2011
Congratulations to all the girls and boys who participated in the Plassey Credit Union Quiz. Over 120 children from Third to Sixth Class participated in the competition and the top eight scorers were selected as members of the Don Bosco Quiz Team 2011. The team represented our school recently in the second stage of the Credit Union Competition. They were pitted against schools from Tipperary, Clare and Limerick. Even though the Milford N.S. Quiz Team did not qualify for the All-Ireland Final they performed really well.The members of the Don Bosco Quiz 2011 are Gavin D, Joshua C, Robyn N, Luke M, Eve B, Paul H, Yvonne S and Aoife K.
Alan Quinlan with Corn na Modhscoile Winners
Pictured above are the Girls from Milford N.S. with their football coaches Ms. kathryn O'Mahony and Ms. Sarah Griffin. The girls are the Corn na Modhscoile Winners and received their medals recently from Munster rugby star Alan Quinlan.  A big thank you to Alan for visiting our school and well done to all the girls who represented us so proudly in the competition.
Visitors from Korea

Pictured above are Ms. Griffin's Fifth Class with students from Korea. The visit was arranged by the Language Department in U.L.  Several classes got an opportunity to sample Korean culture through the medium of story, art, drama and discussion. The boys and girls in Milford N.S. say 감사합니다 for visiting our school.
Fitzpatrick Cup Presentation 2011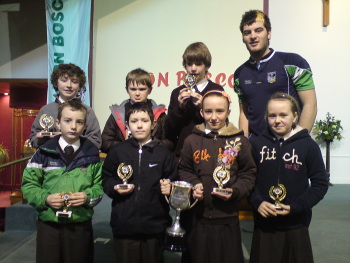 Pictured above are the winners and finalists of the Fitzpatrick Cup 2011 receiving their trophies and medals respectively from Limerick football star Cormac Joyce-Power (past pupil).  A big thank you to Cormac for presenting the prizes and well done to all who participated in the competition.
Fitzpatrick Cup Champions 2011



Please click here below to view
Christmas Carol Singing
The children sang recently after the 10.30am Sunday Mass.  It was a lovely crisp, frosty morning.  The boys and girls donned their scarves and Christmas hats and entertained the large congregration with a beautiful reportoire of festive songs. We raised nearly 900 Euro and proceeds will be used to purchase food and toys for needy families in the community.  A big thank you to the children, teachers and to all the parents who supported us in this very worth-while event.  Please click here to view additional pictures.
Thank you Sister Paul
Katie and Caoimhe (Ms. Griffin's Fifth Class) presenting Sr. Paul with a small token of appreciation and affection from the pupils and staff of Milford N.S.
Parents' Council Events:
The Parents' Council held a cake sale on October 22nd which raised  almost €1,000. The Table Quiz on Friday November 19th  was a huge success and was very well-supported. Many thanks to all who were there. It raised  around €1200 profit for the school. A big "Thank You"  to Nicola and her team for their hard work in organising a brilliant night, and to all donors of the fantastic raffle prizes. I know that Ms Larkin was particularly thrilled on winning a Cinta Ramblado special hamper, containing Cinta's home-made goodies and even a signed Munsters jersey!!
Champions!!
Pictured above are the Milford N.S. Under-13 Girls' Football team who recently won the Limerick City Final. The Milford girls displayed great skill, courage and determination to overcome  their opponents on the day, St. Nessan's N.S., Mungret. Congratulations also to Ms. Griffin, Ms. O' Mahony and Mr. Nelligan who coached the girls tirelessly after school.   It really was a great day for us all in Milford N.S.  Well done again girls.  We are so proud of your achievements.   Please click here to view a slideshow of the day.
Larkin Shield – City Football Team Members 2010
Smoothie Hat Campaign!
Ms Cahill's and Ms Griffin's Sixth Classes and the Knitting Club joined the Innocent Smoothie Company's Big Knit campaign to help raise funds for Age Action Ireland's 2010 'Fuel for the Elderly' campaign.  The project involved knitting little hats to fit over the lids of smoothie bottles.  Many of the children learned to knit specially so as to help ensure that older people will be warm this winter.  They really enjoyed learning this new skill and, in true Milford spirit, were delighted to use it to help others.
The hats, adorned with colourful pom-poms, are very pretty and will be on sale over the coming weeks.  See if you recognise any of Milford's hats when you buy yours?  Please click here to view a slideshow of our activities.
Green Schools Award
At the launch of Milford National School's Fourth Green Flag, Minister John Gormley and Ellen O'Sullivan, An Taisce representative, pose with Denis O'Connor, Green School's Co-ordinator and Kathryn O'Mahony, Principal.  Also pictured are members of the Environmental Committee:Left to right: Aimee G, Lauren M, Aoife D, Laura B, Orla G, Alex N, Aoife McD, Yvonne S, Gavin D, Vinay A.
On Friday, October 22nd, Minister for the Environment, Heritage and Local Government, Mr John Gormley, visited Milford National School to celebrate the raising of the school's fourth Green Flag. The Green Flag was awarded as part of the Green Schools Programme, sponsored by An Taisce, for the promotion of Sustainable Travel in the school. Between May 2009 and May 2010, under the direction of Green Schools Co-ordinator, Denis O'Connor, the school facilitated a reduction from  80% to 40% in car use as a mode of transport to and from school. As the school has a wide demographic Park and Stride was the preferred option, where cars were parked in locations such as the Kilmurry Lodge and the Spar supermarket, and children and parents walked from these locations.
WOW (Walk on Wednesdays) was  supported by 70% of the school population, and classes with the highest percentage of walkers were awarded with the Golden Boot award. COW (Cycle on Wednesdays) was also hugely supported by parents and children, the 5th and 6th class pupils having received special cycle training in November 2009, and a new bicycle parking facility having been installed in December 2009.
The Minister praised the school for its efforts and presented Principal, Kathryn O'Mahony, with a special citation. The school has received three previous Green Flags for its efforts towards Litter Management, Energy Efficiency and Water Conservation, and is now working towards yet another Green Flag for Biodiversity. Please click here to view a slideshow of the occasion.
School Garden Harvest
We had a bumper harvest this year in our school garden.  A big thank you to Ms Mary Lillis and to each class grouping for their effort throughout the year.  Please click here to view more pictures of our harvest.
Microscope  Presentation
A big thank you to Helen Fitzgearld (from the NCE-MSTL) who kindly presented a top of the range Olympus Zoom Microscope to our school for their classroom activities.  We look forward to taking a much closer look at the world around us.The National Centre for Excellence in Mathematics and Science Teaching and Learning (NCE-MSTL, based at the University of Limerick) in its mission to enhance the teaching and learning of the sciences and mathematics sees the importance of developing collaborations and partnerships with industries and businesses.  Abbott who is committed to the support of science education in Ireland and worldwide identified with the NCE-MSTL.Muriel Bryan of Abbott Vascular along with her colleague Mike Ryan saw the link of the donation of microscopes to the National Centre for Excellence with benefiting science teaching and learning in the schools classrooms. Pictured above with Helen are Ms. Olive Doody (Science  Co-ordinator) and Ms. Kathryn O' Mahony (Principal).
Science Week: November 7th to 14th
Under Science co-ordinator Ms Doody's direction this year Science week involved all the children in the school from Junior Infants to 6th class. The children from Juniors to 2nd participated each day in three  experiments per class- from dancing raisins to erupting volcanoes. Second class also attended the  Science Fair in UL, "Travelling Mathsworks Circus". This involved the children in Mathematical experiments to test their logic and reasoning. The Senior classes participated in project work which was entitled "Experiment with Science". The experiments were displayed in the front area of the school from the 9th to the 19th November. Pupils from 5th class also attended a Science workshop in Mary Immaculate College dealing with Physics, Chemistry and Mathematical experiments. Mr Martin Hayes also visited 5th class and they learnt and experimented with ways of looking at renewable energy. Every child in the school got a special certificate to acknowledge their participation in Science Week. Many thanks to Ms Doody. Do check out the Science Notice-Board for an up-date on Science activities in the school.
3rd and 4th Class Hurling Tournament 2010
Please click here to view a slideshow of the tournament.
The boys of 3rd and 4th class played a hurling tournament over the course of 1 month. In total 23 games were played with the eventual winners and runners up receiving inscribed medals.The tournament was keenly contested amongst all 5 teams with Kilkenny running out eventual winners with Evan Power as captain. They beat a gallant Tipperary side led by Niall Sw in the final in a keenly contested encounter played on the 5th of October.Overall the tournament was a resounding success with over 40 boys from 3rd and 4th classes getting the opportunity to practice the skills of hurling in a fun, safe environment. It was particularly encouraging to see so many boys availing of the opportunity to experience hurling for the very first time. Mr. Denis O'Connor and Mr. Brian Kelly would like to extend their sincere gratitude to all that took part in the tournament, to the parents for their support, Fr. John for presenting the medals and UL for kindly allowing us to use their pitches. We look forward to more hurling action in the New Year!Ar aghaidh linn!!!
Congratulations
Well done to  James Blair, a past-pupil of Milford N.S and brother of Louise, on winning the Royal Irish Academy Hamilton Prize in Mathematics 2010. We were delighted to hear of his success. Congratulations to James and to his proud family.